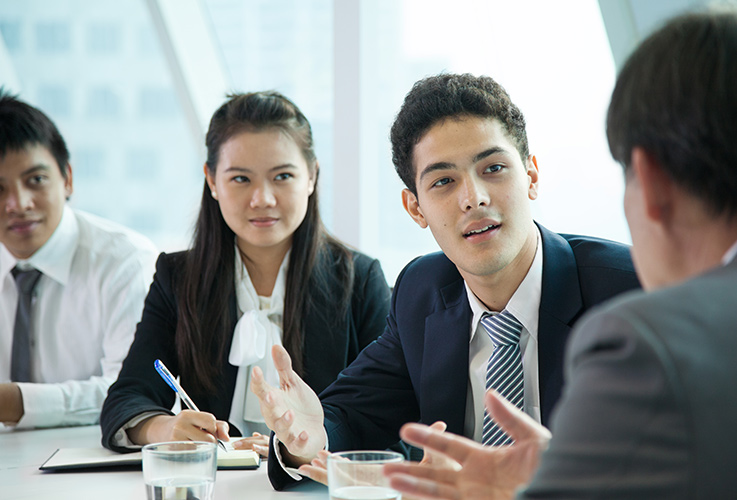 How your people are engaged, coached and motivated is critical to your company success. A goal setting framework allied to a coaching culture is far more likely to produce effective staff who are engaged, creative and adding value to the organisation.
A tale of two cultures
(names and company are fictional)
Karl loved his new job in Stuttgart. He had been appointed Salesforce Administrator for the German division of Hospital Products Ltd, a supplier of medical products to hospitals across Europe. He reported through to Susan, based in London, who was in charge of the European Salesforce application and had 8 country Salesforce administrators reporting to her.
Culture A
Susan came over to visit Karl in his second week. They went through what she expected of him. His role was to respond to requests for reports and data from the Dieter, the German Sales Director and his Regional Managers, of which there were 7. He was to turn around their requests as quickly as possible - they were his internal "customers". Every quarter, she told him, she would do a survey of the Sales Managers to ascertain how they rated him. Her pan-European target was to score 4 or 5 on the 1-5 scale so that's what she was making his target in Germany.
Since the sales managers were all over Germany, and hugely busy, Karl didn't get to meet them. Instead he received requests via a form submission process that his predecessor had set up. This was a way to formalise the change requests and prioritise them. Each form had a description of the new report or change in existing report that the sales manager was requesting, plus an indication of priority. Karl noticed that a lot of the requests included information on product sales, which simply weren't in the Salesforce database.
Karl was pretty organised and hard working. He handled each request by first developing the reports in the "sandbox" version of Salesforce, testing them thoroughly, and releasing it in production. Immediately prior to releasing into production he would write a release note to the requestor, copying all the sales managers (and Susan), explaining the report, how to access it and what the each of the report fields meant.
Susan completed her first survey of her German "customers" 3 months after Karl joined. To her surprise, because she knew Karl was hard working and committed, she discovered that his ratings were only averaging between 2 and 3. Worried, she called up the Dieter and asked him about it. He told her that his managers frequently complained about the length of time it took to get reports designed, and they frequently needed further changes which took more time. Karl rarely called to clarify the requestor's needs, and never gave an estimated delivery date as they had gotten used to from the previous Salesforce administrator.
Susan felt a bit uncomfortable discussing this with Karl on the phone, and since he had his first appraisal coming up in just 5 weeks time, she resolved to bring it up with him at that time.
In the review, Susan explained to Karl that she could only rate him 3 out of 5 because while she knew and appreciated how hard he worked, his internal customers were not giving him the highest marks. Having forgotten the fine details of Dieter's feedback, Susan told him it was because of the delay in getting their reports done. He needed to be more responsive to their requests.
Karl had been looking forward to the review because by his measures, he was delivering more reports and changes than ever before. Whilst crestfallen and demotivated by this review, he resolved to try to do better. He worked even harder to get the reports turned around faster, frequently staying in the office until 8pm. He designed a report which showed the status of each of the requests he was working on and sent it out weekly to his "customers". The report took and hour to compile, and he usually ended up doing it on Sunday morning early before his family got up.
By the time of his second review, Karl was pretty sure he would get positive feedback. He has reduced the turnaround time of requests from 6 weeks to 4 weeks and kept everybody informed via his weekly status update.
Susan got the results of her Q4 survey and she was again disappointed to find little improvement in ratings for Karl. Whilst the Sales Managers now knew when the reports would be finished, they frequently were not exactly as expected and this was frustrating them. Dieter told her that this was affecting his overall team sales performance.
In the review with Karl, Susan tried to be as nice as possible, but she was annoyed that her target of scoring 4-5 was at risk due to the German company. So she told Karl he she could only justify a rating of 2 this time. He really needed to pull his socks up. She was holding his salary flat at present until performance had improved.
Karl was very quiet during the review and didn't say much. Afterwards he went through a range of emotions. Firstly he felt gutted - he had worked really hard and done exactly what was asked of him. Then he felt resentful - no-one seemed to be helping him learn and move on in the organisation. Finally he felt resigned. He resolved to stop working so hard and look for another job ….
Culture B
Susan came over to visit him in his second week and they went through what she expected of him. She shared her personal Objective and Key Result (OKR) with him. Her goal was to make Salesforce reporting so good that it would support the European Sales teams in their mission to deliver 10% sales growth in the year. This was a big ask since sales had never grown at more than 5% for the last 5 years. But the big change this year was a new range of products from a company they had acquired, that could be cross sold to the existing clients.
Susan explained that her main method for delivering her goal was to have a brilliant team of responsive, local country salesforce administors who would work closely with local sales managers to support their teams with the right information at the right time. She told Karl he was a key hire for her and she would work hard to support him. Finally, she asked Karl what he thought would be a good OKR for him. Something that would align with her's and with goals of the company overall.
Karl thought for a bit. He wasn't used to being asked to help define what he should work on. "Well there is a backlog of requests for reports and report changes, but you explained that cross-sell is the big opportunity, so I think I need to understand how the guys in the field prioritise their time. Maybe I can come up with some good reports to help them target customers more effectively for cross sell."
Susan said thoughtfully, "Well it might slow down your report delivery, but in the long term improve the impact of what we deliver. What could we use as the Key Result this quarter?"
Karl suggested "My Key Result could be the design and testing of a suite of reports to help the sales team with cross sell."
"Sounds perfect", said Susan.
Susan outlined Karl's OKR to the Dieter, who thought it was a great idea. He arranged for Karl to travel with a different sales manager for one day per week for the next month. Karl quickly realised that the Sales Managers had to motivate and guide each of their sales reps on a daily basis. And that to do this well, the each rep needed a clear report that would identify their key prospects for the cross sell opportunity. To do this, his report needed to include a calculation based on the current basket of purchased products.
Back at the office, Karl spoke with the MI team to see could he get a regular upload of products groups purchased by hospital into Salesforce rather than just total revenue. When he obtained this, he started making some changes in the "sandbox" until he felt he had the underlying data calculations right to build a really useful cross sell priority prospect report.
Karl wasn't the greatest communicator, but Susan relied on their weekly OKR check ins to find how Karl was getting on. He told her that he was on track to deliver the Key Result and felt his reports could really help the sales reps to target the right accounts and cross sell better.
Susan completed her first survey of her customers 3 months after Karl joined. Not altogether to her surprise, she discovered that his ratings were only averaging between 2 and 3. She had some ideas why this might be and and called up Dieter. They agreed that Karl seemed like a smart guy with some good ideas, but that not much seemed to be coming out of his area. Net result was that his sales managers still complained about lack of information that they needed.
She moved into coaching mode. The first thing she did was kick off a call for 360 degree feedback. She emailed 5 of Karl's regular working colleagues and asked them for feedback on him. Then she spoke to Dieter and asked him to get pertinent feedback comments from his sales managers. The results confirmed her own thoughts. The sales guys found Karl quiet and lacking communication skills and delivery. One went as far as to question whether he had a place in the organisation long term. The MI team who had worked more closely with him, also found him quiet, but creative and hard working. Their feedback said he just seemed to lacked some confidence, communication skills and self awareness.
Having collated the feedback, Susan arranged a video call with Karl right away, and told him that she had gathered some useful feedback to help him develop his skills. She went on to explain that he had a lot of great qualities, but that weaknesses in communication and self awareness were letting him down with his key internal customers. She said that these were very normal for someone at his level and she would help him overcome these. She went through each piece of feedback one by one. Finally she proposed to accompany Karl to the next German Sales Managers meeting. This would be an opportunity to present his ideas, show his expertise and also for Susan to observe and coach on his weaknesses.
Dieter had a busy sales meeting lined up, but understood the need to give Karl some time to present his ideas. Karl was very nervous, and when he showed his report on the big screen the room went very quiet. Then the questions started coming at him. As he began to answer them, his confidence grew. At the end of his presentation the sales managers literally clapped and Dieter asked "So when can this new report go live, it will really help us target our sales activity".
Karl was happy to say "Well I've tested it already so whenever you are ready we can roll it out". What a buzz he got from that meeting!
Following the meeting before she left for the airport, Susan gave Karl a few tips on his presentation style, which he accepted gratefully, as he really wanted to improve his presenting skills. They agreed to make presenting skills a personal OKR for the following quarter.
After the meeting, Karl felt relieved and happy. He felt much more confident about talking to the Sales Managers now that they knew he was really adding value. And instead of sending him report requests, they now tended to call him up to discuss their needs.
When Susan did the next quarterly pulse survey, Karl was rated 5/5 by the sales managers. There were comments like "really took the time to understand our problems and came up with great solution". In Karl's semi-annual appraisal, she was happy to give him a 4 rating, which put him on track for salary rise at the end of the year. He felt so motivated and engaged in what the company was doing, and how he had contributed to its success. He felt sure this was just the beginning of his contribution and that he would come up with some even better ideas in the next OKR cycle. Work was fun and going well!
Culture A - analysis
This is a typical command and control culture which asks staff to execute tasks without fully understanding WHY they are doing it.
Semi annual appraisal invites managers to delay giving continuous feedback, with the mistaken concept that they should store it all up for the appraisal. When such appraisals occur, they lack clarity as the feedback is "lossy" due to delay and relay.
Alignment of objectives is weak, leaving individuals under-motivated, and missing opportunities because they don't understand the big picture.
And the hidden cost of staff turnover eats into profitability.
Culture B - analysis
The coaching and compliment culture focuses on explaining first WHY things are to be done, and how each person can contribute to the overall goals of the team, department, company.
Feedback is given immediately and in full detail, rather like a sports team coach. Managers and colleagues switch rapidly into coaching mode - there's no time to waste! The use of quarterly objectives provides a natural framework for coaching discussions.
The culture invites staff to solicit and welcome feedback as a way to improve. Learning is invited not only from direct superiors, but also from all colleagues. And all colleagues are expected to lend a hand to bring less experienced members up to speed.
The results is more engaged and motivated employees who learn faster. Turnover reduces and performance increases.
Which scenario is operating at your business?