Don't demotivate your team with lagging indicators
You're implementing Objectives and Key Results (OKR) management, like every fast moving company these days. Writing down Objectives is usually relatively easy. But its far more difficult to find suitable Key Results. Let's have a look at a typical Objective and accompanying Key Result and to see the problem.
A good objective, you'll remember is a statement of how you would like things to be at some time in the future. In order to help you think in those terms, I find its best to start the sentence with the time bit. Let's consider an objective which is familiar to many businesses trying to increase their online presence.
"By end Q1-2018, to have optimised our digital sales lead funnel to best in class"
A Key Result is then required to put some metrics around this Objective so that it is apparent whether progress is being made towards them.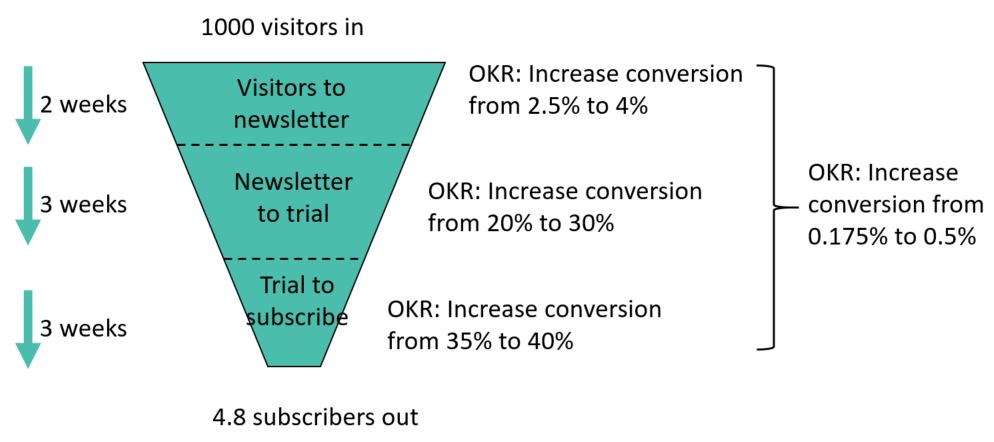 The obvious Key Result would be conversion of visitors to subsribers. Say you found that last year 1000 visitors results in 1.75 subscribers. So you might propose the Key Result as the following. "By the end of Q1-2018, increase Digital Funnel Conversion from 0.175% to 0.5%". Inspiration goal, stretching target: that was easy, let's go, right? Wrong!
You need to consider the length of the sales cycle. Let's say in this case, as in many businesses, it is circa 2 months. This means that the new customers signed up in March 2018 (the last month of the OKR period) actually result from leads generated in the first month of the OKR period. This means that any changes in the top of the funnel, such as increasing the quality of the incoming leads, would need to happen in the first month of the period, to impact the Key Result by the end of the quarter – practically an impossible challenge. This is what's known as a lagging indicator.
If you give your team this conversion measure, they'll likely see little change over a quarter, no matter how brilliant they are. Frustrating and demotivating! What's the solution?
Break down the problem
My favoured approach is to split down the Objectives into smaller ones, and come up with more leading Key Results for these subsidiary Objectives.
So breaking the funnel conversion problem down might result in something like:
Objective 1: Improve conversion of first time visitors to newsletter subscribers by end Q1-2018
Key Result 1: Move conversion rate of first time visitors to newsletter subscribers from 2.5% to 4% by end Q1-2018
Objective 2: Improve conversion of newsletter subscribers by end Q1-2018
Key Result 2: Improve conversion of newsletter subscribers to trial subscribers from 20% to 30% by end Q1-2018
Objective 3: Improve conversion of trial users to paying subscribers by end Q1-2018
Key Result 3: Move conversion rate of trial subscribers to paying subscribers from 35% to 45% by end Q1-2018
Each of these metrics is relatively responsive. Improvements made during the quarter are likely to be reflected in the measure over the last month of the quarter. This is likely to keep the individual or team responsible for this objective more engaged, motivated and creative about impacting them. The metrics run in parallel, even though they are acting on different buckets of prospects, so long as the sample size is sufficient, they should reliably indicate progress or otherwise on the objective. Which is the whole point of the Key Result – remember?
Whats more, the three Key Results taken together add up to more than the overall Key Result objective. (You can verify this by assuming 100 website visitors and multiplying by each stage of the funnel conversion).
This technique can be applied to many objectives – and one of the skills of Objective setting is to break down those big hairy goals into smaller bite sized chunks that energise staff and taken together, move the business forward.